Colour Sticker Nametags
Perfect for equipment and clothing. Fun and easy to use!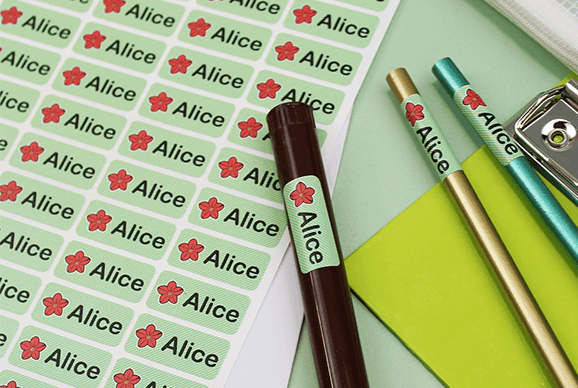 What are colour sticker name tags?
My Nametags name labels will help you keep track of your child's clothes and belongings. Our colour sticker nametags are our most versatile and popular product, as they are easy to use, and look great too! They are designed to withstand the rigours of daily school life which makes them ideal labels for school, plus they are fully washing machine, dryer, dishwasher and microwave proof, once applied, they'll stay forever! Application takes seconds, you'll have all your children's clothes and toys labelled in no time!
How can I design colour sticker name labels?
Our name labels are 100% personalisable, we have loads of designs - design your own labels here! You will be able to choose from our range of colours, designs and fonts to create the perfect label for the child that is going through their astronaut phase, the one that is crazy about animals and even the one that keeps forgetting to mention that they are allergic to something! We also have Mr Men & Little Miss Characters or Hello Kitty designs available, take a look at our exclusive range of stickers and iron on labels.
What size are the school name labels?
Each set contains 56 personalised name tags in the size 30 x 13 mm. This size is perfect for the care label of clothing, but also fits well on your children's equipment such as mobile phone chargers, and everyday school supplies like lunch boxes, drinking bottles and other items that are taken in and out of the home. Label everything to ensure the kids clothing and toys never get lost again.
Why choose My Nametags?
My Nametags labels are the only antibacterial labels in the market! We cover our colour stickers with an antibacterial layer which kills any bacteria that may be on the surface of the labels. Our colour stickers are tested to be antibacterial by the Industrial Microbiological Services and have been awarded a certificate under ISO 22196 (Measurement of antibacterial activity on plastics and other non-porous surfaces). Our name labels are also the best in the market - we use the best material and adhesive to ensure your labels stay stuck and resist abrasion.
Order 1 set of 56 labels for €16.95
Our colour stickers are suitable for:
Stationery

School uniform
(care label)

Shoes

Baby equipment

Toys

Clothing
(care label)

Sports/PE Gear
We have the best name labels in the world!
High Quality

We pride ourselves in making labels of the highest quality. We use the best possible material and adhesive, which has been tested and re-tested to ensure our labels stay stuck and resist abrasion.

Last Longer

Our nametags are made to last. They endure the rigours of daily school life, remain in place, can go in washing machines, dryers, dishwashers, microwaves and still look great!

Customer Satisfaction

We have an almost 100% customer satisfaction rating, unmatched in the nametag market. We are confident that you will love our labels too and will be happy to assist should you encounter any issues.

Sustainability

Labelling your child's items means these are more likely to be returned when lost. A small label can prevent parents from having to rebuy items, encourages reusing and reduces the amount of waste ending up in landfill.
Get started!

Design your colour stickers now, or choose from our other products.
Order 1 set of 56 sticker labels for €16.95