Colour Iron-on Nametags
Perfect for clothing and school uniform. Fun and easy to use!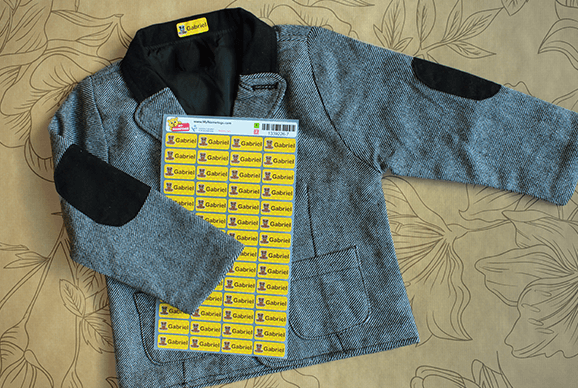 What is an Iron on Label?
Iron on labels are the perfect labels for clothes, they can be ironed directly onto the clothing in a matter of seconds.
Why should I choose Iron on Name Tags?
Our iron-on labels are perfect for clothing and school uniforms, if you are looking for labels for clothes, iron ons are the right choice for you. They can be ironed directly onto garments in seconds and will not budge, they'll stick to clothing for years. My Nametags labels come with a 10-year guarantee, are 100% waterproof, easy to apply to clothes, resistant to wear and are designed to withstand the rigours of daily school life and will last well beyond the school year. Our labels are 100% personalised, we have got thousands of designs to choose from so we've got something for all tastes.
Where can I use Iron on Name Labels?
Iron on name labels can easily be applied to all kinds of clothing, they are suitable for jumpers, t-shirts, trousers, socks and of course school uniforms. Our labels are designed to withstand rigours of the washing machine and tumble dryer.
Who should use Iron on Labels?
Iron on labels are ideal for both kids and adults. We've got thousands of designs to choose from.
What size are they?
Each colour iron-on nametag is 13x30mm and you get 56 labels in each set so you can use them on all your child's favourite clothes & school uniforms.
We send out instructions on how to apply our iron labels with each set ordered.
Order 1 set of 56 labels for €16.95
Our colour iron-ons are suitable for:
Clothing

School uniform

Sports clothing

Socks & Underwear
We have the best name labels in the world!
High Quality

We pride ourselves in making labels of the highest quality. We use the best possible material and adhesive, which has been tested and re-tested to ensure our labels stay stuck and resist abrasion.

Last Longer

Our nametags are made to last. They endure the rigours of daily school life, remain in place, can go in washing machines, dryers, dishwashers, microwaves and still look great!

Customer Satisfaction

We have an almost 100% customer satisfaction rating, unmatched in the nametag market. We are confident that you will love our labels too and will be happy to assist should you encounter any issues.

Sustainability

Labelling your child's items means these are more likely to be returned when lost. A small label can prevent parents from having to rebuy items, encourages reusing and reduces the amount of waste ending up in landfill.
Get started!

Design your iron-on labels now, or choose from our other products including our super-versatile colour sticker labels.
Order 1 set of 56 iron-ons labels for €16.95